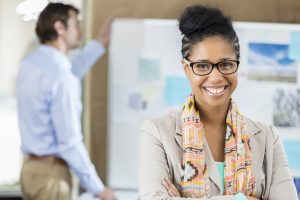 Executive assistants are in a category of their own. Masters of organization, planning and detail, they keep their executives on time and on top of everything.
As well as providing clerical help like crafting letters, memos, greeting visitors, taking dictation and phone calls, executive assistants set the schedule for their executives, they plan meetings, maintain files and records, arrange business lunches and dinners and make travel arrangements.
Top-level executive assistants need high-level skills including:
Technology Skills
Communication Skills
Organizational Ability
Written Expression
Time Management
Technical Oversight
Management
Problem-Solving Skills
The Wellington Agency can help you meet your perfect match. We'll find you an executive assistant that helps both you and your office run like clockwork. With a special list of hand-selected, qualified candidates at our disposal, we'll find you that perfect someone to take care of all your administrative needs.
Please click the appropriate button above to contact the correct department. Whether you'd like to hire staff, or you're a qualified and experienced
candidate looking for a position, we'd like to hear from you.